K I N E T I C  C I N E M A
Kinetic Cinema is a regular screening series curated by invited guest artists who create evenings of films and videos that have been influential to their own work as artists. When artists are asked to reflect upon how the use of movement in film and media arts has influenced their own art, a plethora of new ideas, material, and avenues of exploration emerge. From cutting edge motion capture animation to Michael Jackson music videos, from Gene Kelly musicals to Kenneth Anger films, movement in media has made a great impact on the culture at large. Kinetic Cinema is dedicated to the recognition and appreciation for "moving" pictures. We have presented these evenings at Collective: Unconscious, Chez Bushwick, Interborough Repertory Theater, University Settlement, Launchpad, Green Space, CRS, Fort Useless, Uniondocs, and The Tank in New York City, as well as at the Institute of Contemporary Art in Philadelphia.
U P C O M I N G  S C R E E N I N G S
Kinetic Cinema Season Jan-May 2014
Second Thursday of each month at:
Spectacle
124 South 3rd Street, between Bedford Avenue and Berry Street
Brooklyn, New York



Thursday Jan 9th 8pm @ Spectacle $5

"PRESSUR.ES"
a screening and discussion with Derrick Belcham

Derrick Belcham presents a night of excerpts from PRESSUR.ES, his 10 film dance series exploring the interaction of choreography, score and the edit and also select music videos. The night features music by Sarah Neufeld (Arcade Fire), Skye Skjelset (Fleet Foxes), Casey Dienel (White Hinterland), Marissa Nadler and Diane Cluck and choreography by Emery LeCrone, Miguel Gutierrez, Melanie Maar, Mariel Lugosch-Ecker, Lily Ockwell and Emily Terndrup.

Thursday March 13th 8pm @ Spectacle $5
a screening and discussion with Nel Shelby

Nel Shelby shares promotional dance videos and short dance films that have propelled her client's marketing for performances, tours and fundraising. Whether it's shooting behind-the-scenes interviews, capturing rehearsals or creative choreography in the studio, Nel's expert team of videographers, editors and marketing minds enjoy offering creative input and help brainstorming the best promotional methods for the videos they create. Nel will talk methods behind the madness, challenges and successes in the editing room, target audiences and more.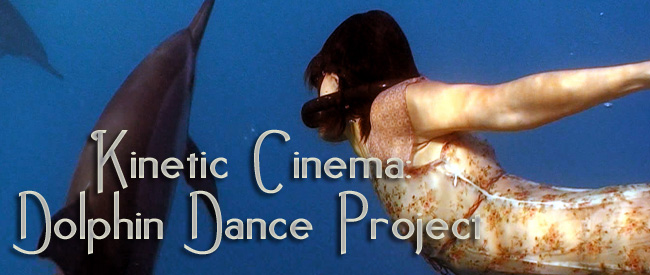 Thursday April 10th 7:30pm @ Spectacle $5
a screening and discussion with Chisa Hidaka & Benjamin Harley

When we don't resist, we fall … or we fly. A program of shorts in which gravity, or its absence, shapes the choreography. Dancers take to outer space, the sky, cliffs, buildings and other urban features, as well as the open ocean to create extraordinary relationships with our ever-present partner. Underwater dances include 3D work from the Dolphin Dance Project.

Thursday May 8th 7:30pm @ Spectacle $5
"Story, Poem, Metaphor"
a screening and discussion with Gabrielle Lansner
Choreographer and filmmaker Gabrielle Lansner will screen her emotionally charged and story driven dance films. Coming from a dance/theater background, Gabrielle will discuss her creative process and the challenges she encountered in developing works for the camera.


P A S T  S C R E E N I N G S
Wednesday, June 19th 8pm @ Spectacle $5
"Visual Rhythm"
a screening and discussion with David Fishel
In his program for Kinetic Cinema, filmmaker David Fishel examines the relationship between editing and choreography (that is to say the similarity of The Editor and The Choreographer) in a likeminded focus on visual rhythm as an avenue toward ideal, pure cinema.
David Fishel is a NYC based filmmaker/ video-artist who dabbles as an absurdist poet, animated storyteller, experimental sound artist, and obnoxious performance artist.  Mr. Fishel is a graduate of University of Iowa where he focused his studies in Cinema and Comparative Literature and Intermedia / Performance Art. Fishel has worked and collaborated with Hans Breder, Phil Niblock, Thinkdance, Luke Murphy, Jason Batemen, John Kolvenbach, and The Hatch-Billops Collection.


Wednesday, May 8th 8pm @ Spectacle $5
"The Ballerina and the Bum"
a screening and discussion of the work of Eleanor Antin
Eleanor Antin, who has worked in film, video, photography, installation, writing and performance since the 1960s, uses fictional characters, autobiography and narrative to invent histories and explore what she calls, "the slippery nature of the self." In her performance-based video works, Antin uses role-playing and artifice as conceptual devices, adopting archetypal personae — a ballerina, a king, a nurse — in her theatrical dramatizations of identity and representation.
At Kinetic Cinema we will be showing Antin's "The Ballerina and the Bum" a video made in 1974 in which the artist's ballerina self — represented here as a "would-be ballerina from the sticks" — plans to walk across the United States to "make it in the Big City." She meets a bum on a freight train and together they dream of success. Along with this feature we will show short excerpts from some of Antin's other ballerina films, and a short by Rajendra Serber from the online film series "Dances Made to Order."
Wednesday, April 10th 8pm @ Spectacle $5
"Occupy Interior Spaces"
a screening and discussion with Adam Weinert
In a city where artists are priced out to the margins, and coinciding with the beginnings of occupy wall street, I inexplicably gained access to a townhouse on the Upper West Side of Manhattan. I invited 9 artists to to respond, inhabit and document the building, and this is what we made. 
For his evening of Kinetic Cinema, Adam shared and discussed never before seen footage from the project Inside Lives, described above, as well as other guiding forces behind his work for stage, for studio and for camera.
Wednesday, March 20th 8pm @ Spectacle
"The Scientist and the Show Girl"
a screening and discussion with Kat Green
The Scientist and the Showgirl follows the path of a dance filmmaker turning into a pyromaniac sculptor, and the unlikely ways that those things relate to one another. Starting with the challenges of color, light, and camera movement, Kat Green found herself going down a rabbit hole of cause and effect, leading her to play with the ideas of telling a story through minutia, cadence, and finally making inanimate objects dance.
Tuesday, February 12th 8pm @ Spectacle
"The Beauty of Imperfection"
a screening and discussion with Victoria Sendra
Victoria Sendra is a filmmaker who likes to work with an air of improvisation. For Kinetic Cinema she will show several of her recent dance films, including a number of collaborations with theater artist Samantha Shay. Her influences range from Carlos Sauras' flamenco films to Maya Deren and extreme sports films. She will discuss these and how they have informed her philosophy on shooting dance.
She writes, "Live performance is a three-dimensional experience, and once filmed, it becomes two-dimensional. My joy as a filmmaker is figuring out how to resist that two-dimensional space."
Wednesday, December 12th, 2012 8pm
Screening and discussion with Yanira Castro
Yanira Castro is a New York choreographer whose work in live performance extends into other media and online platforms and invites audience participation.
24 South 3rd Street
Brooklyn, New York
Wednesday, November 14th, 2012 8pm @ Spectacle
"2D to Cyberspace & Waterwheel"
Screening and discussion with Suzon Fuks
Presented in partnership with the Dance Films Association
Australian-based intermedia artist Suzon Fuks presented excerpts of films, videos and recordings that inspired her to create Waterwheel, a collaborative online venue around ideas of water, and the unique videoconferencing and media mixing system, the TAP. By performing and editing up to 6 webcams and media for a live online audience connected through chat, the TAP allows for new choreographic and kinetic possibilities in filmmaking.
In coordination with this evening of Kinetic Cinema, Suzon held a hands-on introductory workshop on the Waterwheel platform and the TAP system for media artists, performers, scientists and water activists. A live TAP session was devoted to climate change and the effects of Hurricane Sandy on our communities. Participants were encouraged to bring photos, videos, choreography and words about the storm to share.
Workshop: Introduction to the Waterwheel and the TAP
Wednesday, November 14th, 1-4 pm
$18 admission
The Brick
579 Metropolitan Avenue
Brooklyn, NY 11211
Wednesday, October 10th, 2012 8pm @ Spectacle
"The Take Away Dance"
Screening and discussion with Derrick Belcham of La Blogothèque
For our kickoff evening, filmmaker Derrick Belcham introduced the dance films of the french music video site, La Blogothèque. Derrick discussed the practice and theory of the Take Away Show and screened a selection of new works he shot in New York City. Following the screening there was a Q & A with the filmmaker and selected artists from the films.
Derrick's Take Away dance films focus on the intersection of the camera, the dancer and the happenstance audience in the streets of New York City.  The affect of camera on subject, camera on audience and audience on subject will be explored in depth as well as the affects of environment and interactivity on the structure of the choreography.
Kinetic Cinema @ Uniondocs
"Electric Salomes and the Technology of Female Spectacle"
Screening and discussion with Amy Ruhl
with filmmakers, Amy Greenfield and Kerrie Welsh
Monday, May 7th, 7:30pm
$9 suggested donation
For her program, filmmaker Amy Ruhl examined how the female body, under the unique technology of cinema, has been the primary source of spectacle since the beginnings of film. Ruhl's work engages with sources ranging from George Meliès' "trick films," to Nazimova's "Salome" (Dance of the Seven Veils) to Vera Chytilova's phantasmagoria scene in "Daisies," one of the most lauded Czech new wave films. She presented examples of these influences and discussed how they have informed her latest short film, "How Mata Hari Lost Her Head and Found Her Body" which was made in part by collaging early film footage together with live action animation.
The program also featured works by two contemporary experimental filmmakers, Kerrie Welsh and Amy Greenfield, who joined Ruhl in a discussion.
"Peter, Peter…"
Kerrie Welsh, 16mm color sync sound. 6 minutes 33 seconds, 2002
"Wildfire"
Amy Greenfield, 35mm, 12 minutes, 2003
322 Union Avenue
Brooklyn, NY 11211
Kinetic Cinema at Gibney Dance Center
Let me Entertain You  
Screening and discussion with Marta Renzi
Thursday, March 22nd at 7pm
$5 suggested donation
Marta Renzi, an acclaimed choreographer and filmmaker, curated a program that revealed the real inspiration behind her work, and reminded us of why art matters:
"Asked to share something about why I make dance films, I find myself showing excerpts from feature films that include a prison gang, a drunken orgy, and run the gamut from Greek tragedy to Saturday morning cartoons. To accompany these, I've chosen bits from my own dance films featuring characters with everyday lives and actual jobs – nursing aide, garbage collector, fast food worker, bartender – and who dance like it."
Arthur Aviles, a long time performer and collaborator of Marta's opened the evening with a video and solo piece of his own.
Gibney Dance Center
890 Broadway, Fifth Floor
New York, NY 10003
Kinetic Cinema at Fort Useless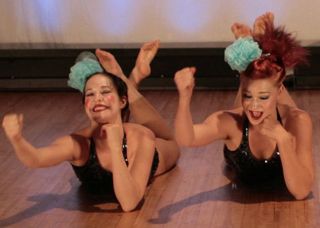 The MerryMakers Make Movies
a screening and discussion with The MerryMakers
Sunday, February 26th at 7pm
The MerryMakers evening length show "Adventures in Anytown," part vaudeville act and part silent film era comedy, is the result of a collaboration between dancers Elizabeth Burwell and Rachel Sattler and filmmaker Ethan Duff. Dance and film are both effective mediums for visual communication, and by intertwining the two, the MerryMakers created a show that is at once nostaglic and innovative.
The MerryMakers Make Movies will explore the ways that nostaglia and image memory influence the contemporary artist while at the same time morph into something new. The program wil include footage form their show along with clips of influencial film images and discussion of their experiences shooting throughout NYC, wearing clown make-up, in the dead of winter. Come to be inspired, come to laugh, leave tapping your toes.
36 Ditmars Street
Brooklyn, NY 11221
Kinetic Cinema at CRS (Center for Remembering & Sharing)
"Dance On Camera Extended"
presented in conjunction with CRS and the Dance Films Association
Saturday February 4th, 7pm
Every year, the Dance Films Association's Dance on Camera Festival showcases films that highlight the relationship between movement and cinema. Hundreds of submissions are received, but only a few are able to be screened. For this special program we have selected some of our favorites that were not able to be shown this year, and will screen them as part of our first Kinetic Cinema event of 2012.
CRS (map)
123 4th Ave, 2nd FL
New York, NY 10003
212.677.8621
info@crsny.org
Kinetic Cinema at CRS (Center for Remembering & Sharing)


The Making of Bound
screening and discussion with Yaa Samar! Dance Theatre
Saturday December 3rd, 4:30pm
$10 suggested donation
The New York-based contemporary dance theatre company Yaa Samar! Dance Theatre curated the Dec 3rd Kinetic Cinema where they discussed their unique process using Skype to create new work during the temporary relocation of Artistic Director Samar Haddad King to Palestine. In October 2011 the company premiered their latest performance project, Bound at the LaGuardia Performing Arts Center, examining the lives of nine individuals living under occupation. For Kinetic Cinema, they discussed their unique working technique with Samar Haddad King live on Skype, along with a curated selection of videos related to Bound, including footage from the creation process and source films from which they drew their inspiration.
Born in Alabama to an American father and Palestinian mother, Samar Haddad King graduated cum-laude with honors in choreography from the Ailey/Fordham BFA program and founded Yaa Samar! Dance Theatre in 2005. Her work has been commissioned by Configuration Dance, San Angelo Ballet, The Ailey School, and Hubbard Street 2 where she was a recipient of the National Choreography Competition in 2010. Samar has taught repertory, improvisation, and technique workshops throughout the U.S, Jordan, Palestine, Spain and England. She currently splits her time between New York City and Ramallah, where she works remotely with the company via Skype.
Yaa Samar! Dance Theatre has been hailed as "awesomely athletic" by Chicago Stage Style, and "Like a ray of light coming out of the arid desert…leaving the audience mesmerized in their seats" by Hussein Daaseh, Al Rai. You can more about their long distance creative process in this article by Jennifer Edwards for the Huffington Post.
photo: Sara Genoves-Slyvan
CRS (map)
123 4th Ave, 2nd FL
New York, NY 10003
212.677.8621
info@crsny.org
Kinetic Cinema workshop @ Green Space

The One-person Crew: Techniques and strategies for getting it all done yourself
Workshop with Zena Bibler
Sunday November 20th, 3-6pm
Led by dance filmmaker and former Kinetic Cinema Coordinator, Zena Bibler, in this workshop we focused on strategies for filming (and editing) ourselves in visually interesting and dynamic ways through camera positioning, perspective, rhythm and movement composition. We also discussed techniques for shooting to edit without a DP.
Zena Bibler is a dance artist and filmmaker interested in improvisation structures and site-specific performance. Using movement and film as a means of experiencing diverse environments, she uncovers histories, secret meanings, serendipities, and previously unimagined possibilities in the spaces she explores. Her work has been shown at Judson Church, Dixon Place, La MaMa Galeria, NADA Hudson, Yale University, WestFest, Rice University, São Carlos Videodance Festival, and Moviehouse Brooklyn.
37-24 24th St. Suite 301
Long Island City, NY 11101
718.596.3037
info@greenspacestudio.org
Kinetic Cinema presented by MovieHouse @ 3rd Ward
Can Marriage be Creative?
screening and discussion with Aynsley Vandenbroucke
Sunday November 13th 7pm Doors and Food, 8pm Screening
For the first time, Kinetic Cinema was presented by MovieHouse at 3rd Ward, a screening series that presents the very best in local filmmaking amidst cool beats, drinks, snacks and creative conversation.
For Moviehouse, choreographer Aynsley Vandenbroucke presented a program that delved into the relationship between personal partnership and artistic practice. Through documentaries and interviews of primarily New York-based artists, she looked at questions of freedom and commitment, presence and absence, public and private, mobility and stability. After the screening there was a discussion and debate about these sometimes contradictory human impulses, and the dialogue that ensued was recorded to form the foundation for a new performance piece Vandenbroucke is making surrounding these questions.
photo: Mathew Pokoik
3rd Ward
195 Morgan Ave
Brooklyn, NY
718.715.4961
events@3rdward.com
Kinetic Cinema @ LaunchPad
THE PERPETUAL MOTION OF DANCE & WATER
screening and discussion with Pascal Rekoert
Thursday June 9th 7-9pm
LaunchPad, 721 Franklin Avenue, Brooklyn, NY 11238
For the final installment of this spring's Kinetic Cinema, choreographer/filmmaker Pascal Rekoert focuses on the interplay between dance and water including film works of celebrated New York City artists: Xan Burley & Alex Springer, Julie Fotheringham, and Jody Oberfelder.
Kinetic Cinema @ Green Space

Workshop and Screening: Moving with Objects and Architecture
with Zach Morris
Green Space, 37-24 24th St. Suite 301, Long Island City, NY 11101
Choreography for the Camera Workshop
Tuesday May 3rd 7-10pm
In this workshop, multi-disciplinary artist Zach Morris led participants through a process of creating site-specific movement works for the camera. A grab-bag of choreographic tactics focus on working with the architecture of a site to pull images and meaning from its components. Techniques for researching a site and exploring its possibilities in movement; finding hidden meaning in a space and developing methods to amplify it; and issues of staging, storyboarding, and choreographing for the camera were introduced through a series of focused exercises.

Film Screening: Moving with Objects and Architecture
Tuesday May 17th 8-10pm
Zach Morris of Third Rail Projects and The Dance Film Lab curated an evening of Dance for Camera that has been influential on his work as a site-specific choreographer and dance filmmaker.  Films such as Dirty Ho (Lan tou He); (Dir. Lau Kar-Leung, Contrecoup (Dir. Pascal Magnin), Rest in Peace (Chor. Hans Hof Ensemble; Dir. Annick Vroom), as well as footage from Casino Royale (Dir. Martin Campbell), Touch of Evil (Dir. Orson Wells) and Singing in the Rain (Dirs: Gene Kelly and Stanley Donen) were included.


Kinetic Cinema @ LaunchPad
The Virtual Double: A Screening and discussion with Jillian Peña
Friday April 15th 7-9pm, FREE
LaunchPad, 721 Franklin Avenue, Brooklyn, NY 11238
Following in the steps of the Greek chorus, the corps de ballet and the Rockettes, dance artist Jillian Peña sought to create a homogenous group of dancers to work with.  Finding it impossible, Jillian turned to video and found perfect unison of bodies using self-multiplication.  In her program, Reflection Jillian showed the earliest and the most recent of her works employing this aesthetic ideal.  She also screened works which have inspired her in this process.
Kinetic Cinema @ Institute of Contemporary Art, Philadelphia
Curated by Carmella Vassor-Johnson
Wednesday, February 24 @ 7:00pm · FREE
Institute of Contemporary Art · University of Pennsylvania
118 S. 36th St., Philadelphia, PA 19104-3289
In 1999 Carmella Vassor-Johnson joined a group of dance-media makers from across the country and Canada for a fellowship program mentored by a prestigious group of leaders in the field. Over the course of many months she worked with pioneers of dance film like Jac Venza, Merrill Brockway and Girish Bargava (of Dance in America) and with the talented and culturally diverse dancers of the UCLA community. The films that Carmella shared in this program represent images, ideas and relationships from that time that remain vital for her today.
Presented in conjunction with the 'Dance with Camera' Exhibition at ICA.
"I Tube, You Tube, We all Tube for YouTube"
Curated by Jody Oberfelder
Wednesday, December 9, 2009, 7:30pm
Tickets: $10
354 45th St.
New York, NY 10036
For the final Kinetic Cinema of the year, dance filmmaker Jody Oberfelder presented a humorous and provocative survey of the global impact of YouTube and how dance artists can best use this platform to showcase and further their art.
Kinetic Cinema is a co-presentation of Pentacle's Movement Media with The Tank.
"LIQUID FILMS"
Curated by Amy Greenfield
Wednesday, November 11th, 2009
7:30pm $10
354 45th St.
New York, NY 10036
For LIQUID FILMS, cinedance pioneer, Amy Greenfield, takes dance into the water in a splash of amazing classic and neo cine-dance from 1903 to the 21st century, to transform the very nature of dance as only a screen medium can.
Kinetic Cinema with Victoria Marks
Wednesday, October 21st,
6:30pm.
Institute of Contemporary Arts (ICA)
118 South 36th Street
Philadelphia, PA
Thursday, October 22nd,
7:00pm. $10
University Settlement
184 Eldridge Street
New York, NY 10002
Award-winning choreographer and dance film-maker, Victoria Marks presents a program in which she weaves together her main cinematic influences with her own dance film work.
"Kill The Ego" by Soundwalk and Rostarr
Curated by Lisa Niedermeyer
Wednesday, September 9th, 2009
7:30pm $10
354 45th St.
New York, NY 10036
Conceived originally as a sound collage by Stephan Crasneanscki and Dug Winningham of the new media firm Soundwalk, 'Kill The Ego' draws on a decade's worth of New York City field recordings "voices of pimps and engineers, poets and dominatrixs, visionaries and children, hope and sorrow." Fueled by this sound, underground visual artist Rostarr experiments with gravity, momentum, torque and combinations of all three (break dancing on his canvases) as directors Jim Helton and Ron Patane bring to cinematic life Soundwalk's original audio collage and Rostarr's visual work, culminating in a uniquely kinetic representation of New York City.
"REALITY DANCEVISION:
An Intimate Screen Capture of Dance Vloggers"
Curated by Boris Willis
Wednesday, June 10, 2009
7:00pm $10
Chez Bushwick
304 Boerum St., Buzzer #11
Brooklyn, NY 11206
This last Kinetic Cinema of the season featured Boris Willis, a dancer, choreographer, video-maker and blogger based in Washington DC. Willis explored the phenomena of dance vlogs (video blogs about dance) and presented works by of some of the most notable and prolific dance vloggers today. In 2007-08 Willis published the vlog "Dance-a-day" in which he made and posted a dance video every day for 365 days. From his first video shot in a parking lot demonstrating effeminate gestures, to an entire month of posts about important sites of Black history in Washington DC, as well as 43 collaborations with composer David Morneau (who also posted a composition a day on his blog 60×365.com) , Willis covered the entire range of styles, experiments, and types of improvisation one can do with dance and a video camera.
For more information on this  program please visit our blog, Move the Frame.
This Kinetic Cinema was a co-presentation with Chez Bushwick.